About this report
Keep track of your club's text message usage in the Text Messages Count report.
Outgoing Messages
Appointment Alert: Number of texts sent for appointment confirmations or reminders
Broadcast: Number of texts sent via text blasts (this column does not include opt-in requests)
Adhoc: Number of 1:1 texts sent by staff for 1-1 text conversations
Staff Alert: Number sent to a staff's mobile number when a lead or member replies to a text message
Auto-Responses: Number of texts sent automatically to new text leads plus the number of responses sent to subscription command texts received from your customers
Incoming Messages
Incoming Lead: This is linked to your SMS Marketing Number and shows the number of new leads that texted their name to your Text-In number

Reply to Outbound: The number of texts to which a lead or member replied. For example, it includes when someone replies to an Appointment Alert, a Text Blast or a 1-1 Text Conversation.

Subscription Command: This shows the number of incoming texts received for leads that enter the STOP, UNSUBSCRIBE, START, SUBSCRIBE or HELP commands.
Total
The total number of text messages used (and to be charged to your club or deducted from your pre-purchased text package).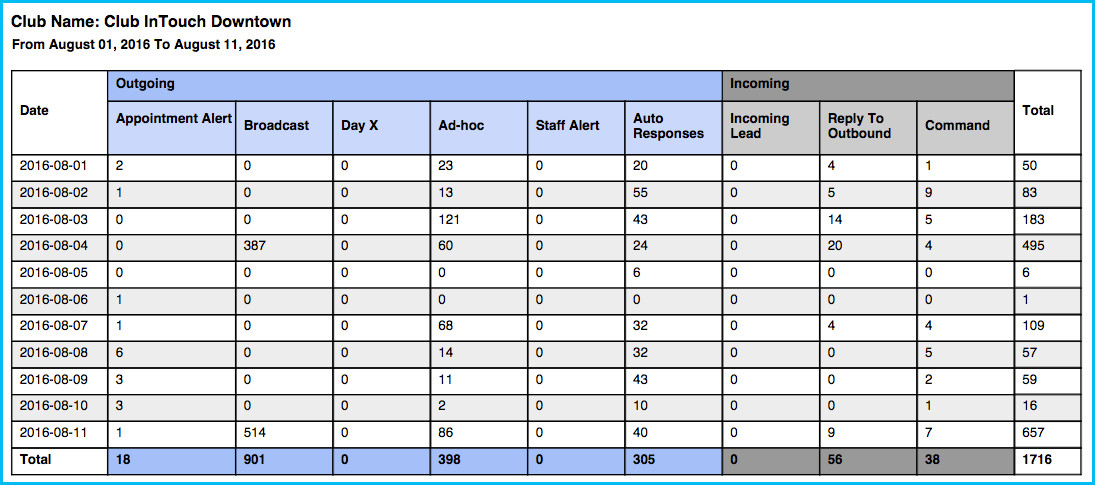 To access this report
Log into Drive and select the Reports menu
Select the Live Reports section
Find (or search for) the report named Text Messages Count
Select View
A new window should appear allowing you to enter your report parameters
Select a Club (this legacy report is available in single-club format only)
Select a date range of when the members cancelled (one-year max)
Select from a PDF or CSV format
Select Run Report