There are several options for sending out a text blast. So your first step is to determine which broadcast option you want to send, edit the text and then enable it.
To Send a Text Blast
Log into Drive
Go to the Admin menu and select Communications
Within the Communications section, select Broadcast
Select your desired contact type on the left hand side (e.g. Membership Leads)
Select your desired Life Cycle group (e.g. All Interested)
Select your desired Club

You will also be able to copy/save this blast to additional club locations upon saving).

Find the text you wish to send (ie: Text All Interested Membership Leads) and click Edit

Select your date range. This allows you to filter your contacts down to, eg, only leads added this month. Once a date range is selected the summary of matched contacts in the Club you have selected. See Contact Summary below for an explanation.
Set your Send Date (and Time). As a best practice, always keep this as OFF until you have finished your message.

Off: This will save your message in draft form
On: This will trigger your message to begin sending within the next 90 minutes.
Send Later: Set a specific date and time for your message to begin sending. (The time you see displayed is the local time of the Club).

Enter your message. Select Merge Fields to add options such as the Contact's First Name or the Contact Owner (Assigned Staff)'s name.
Use the Preview section on the right to proof your message. Any Merge Fields will show a placeholder in italics. The italics are just for display.

Select Save
Select any additional clubs for which you want to send this same blast
Select Save
Helpful Hints
Never copy and paste from another system. Always type your content directly into InTouch. Different software applications are written in different coding languages. You could be pasting in hidden code that will effect your text message.
When setting a time, keep in mind that this is the processing start time. It may take up to 90 minutes from that start time to start sending. Text message providers also send texts via a queue; in other words they send one after another, not all at once, so the more texts you send, the longer the sending process will take.
Contact Summary
The Contact Summary provides a breakdown of matched contacts and their opt-in statuses. Using the below example, this means 36 leads with mobile numbers match this category. I.e. There were 36 contacts added in the selected date range, with mobile numbers, that are still an in Interested Lead category.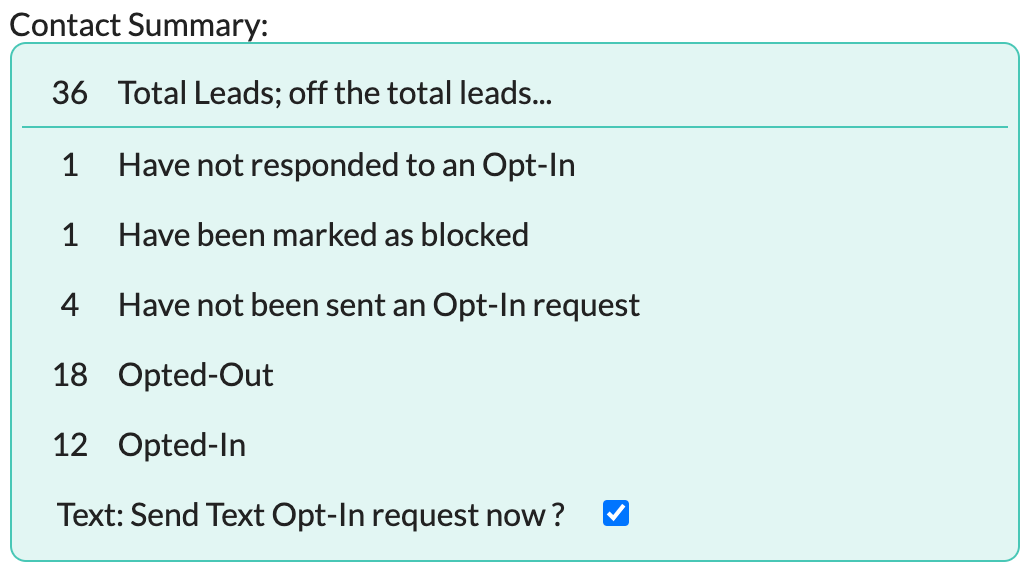 Of these 36 contacts:
Have not responded to an Opt-In: 1 of these 36 contacts has already been send an opt-in text and didn't do anything with it. They neither opted in nor opted out. You cannot re-send an opt-in request to them in this blast and they will not be sent this text blast.

Have been marked as blocked: 1 of these 36 contacts has been unsubscribed to text and will not be sent this text blast.

Opted-Out: 18 of these 36 contacts have opted out of text and will not be sent this text blast.

Opted-In: 12 of these 36 contacts have subscribed to texting and will be sent this text blast.

Have not been sent an Opt-In request: 4 of these 36 contacts have not been asked to opt in. You can select the "

Send Text Opt-In request now?" option to send these 4 contacts an opt-in text when this blast sends. If any subscribe within 24 hours, they will also be sent your text blast message. (If they subscribe after 24 hours, they will just be subscribed for subsequent blasts. This allows you to send time sensitive blasts).